We are having a big art festival on our island this week. I got to work it this morning making paper hats for kids. However, last night I biked into the village from our far side of the island. I met my family where we enjoyed the party atmosphere with bands and dancing. But I told my son Ramsey, "You know . . . it wouldn't bother me at all if they tore down the bridge to the mainland and I had to spend the rest of my life here without leaving this wonderful island once."
The reason I said this was because I really do love this place with all my heart and I've been here six years. The only thing that could make me move is if all my kids congregated in one place far away, then I would move to be near them. But even if I lost my job and could not find another one . . . I would work in the McDonalds' drive through window and live in a trailer in the woods just so I could stay here.
The Stoic logic that breaks down at this point (and I am using the term "Stoic" loosely) is the fact that before moving here, I lived in a small town in Minnesota that I actually hated. It was freezing cold all winter (and no snow to play in, just frozen dirt and cow manure) but it was like a sauna all summer. I couldn't go outside. But it didn't make any difference as there was no reason to go outside. No trails, no trees, no lakes, no rivers . . . absolutely nothing. It is a long story how we ended up where we did, but I did have a wonderful job while we lived there which made it bearable.
But the point is that many, many times, when I expressed how much I hated living in that small Minnesota town, I heard from my Stoic oriented friends (and family), "If you are not happy where you are, then you will never be happy. Geographic location should never determine your happiness." Or, even being more consistent with the Greek-Stoics, was the message, "You should never listen to your emotions . . . they always lead you wrong. Listen only to logic." So for six long years I struggled, believing that the reason I didn't love that small town was something wrong inside of me. You know, just a rotten attitude about life . . . I guess.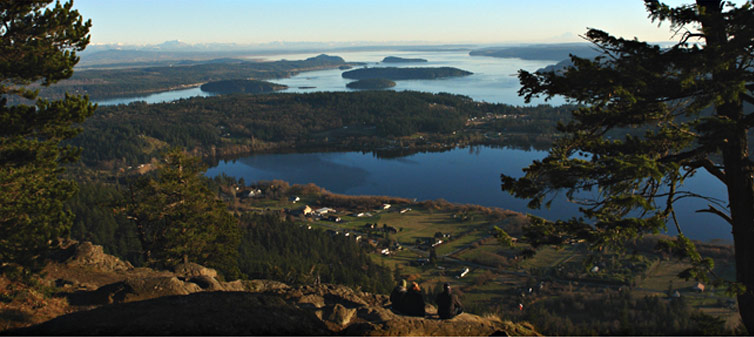 Did I mention that I am so happy living here and I've been very happy living here for six years? I became happy living here the day I arrived. I am so happy living here . . . even more so than now than the day I arrived.
So when I awaken in the morning to the cool breeze rolling through the window carrying with it the smells of the salty, kelp-tinged air and I hear the deep moans of the ferry lazily drifting across the sound . . . I feel God's pleasure in mine.